It, Stephen King's 1986 supernatural novel, became a blockbuster hit film in 2017. That project reportedly earned $700 million at the box office, against a $35 million budget – virtually ensuring a sequel. It: Chapter Two reunited director Andy Muschietti and director of photography Checco Varese, ASC. The duo had worked together a decade ago on commercials and a pilot, and brought a shared cultural background and language to the task: both were raised in various South American countries. Production took place at Pinewood Toronto and at locations in the vicinity.
            "Just a few words were enough to express my vision of this film to him, and immediately an effervescent creative dialogue began," says Muschietti. "For a cinematographer, working with a director who is very visual can be a blessing or a curse. That's why Checco is such a trooper. His patience is monumental, and his support unconditional. His background shooting in war zones might explain his adaptability to the circumstances. You want someone like Checco who is always at your side, ready to share his visual creativity."
 The story finds the self-proclaimed "Losers' Club" returning to their hometown of Derry, Maine after 27 years to defeat Pennywise, the shape-shifting, dancing demonic clown portrayed in terrifying fashion by Bill Skarsgård. The cast also features Jessica Chastain, James McAvoy, Isaiah Mustafa, and Bill Hader. In the script, Pennywise controls everything, even the minds of the other characters, who must conquer their fears to defeat him. This conceit called for very conceptual lighting and lensing, at times untethered from normal reality – simultaneously a tremendous challenge and opportunity for Varese.
            Varese opted to work with two types of lenses in order to delineate what he terms "the past tense" and "the present tense." For contemporary, he combined Alexa SXT and Mini cameras with standard spherical glass. For scenes taking place 27 years ago, he used T1.7 MiniHawk lenses from Vantage – finely crafted hybrid spherical/anamorphic lenses that deliver subtle anamorphic flavor while solving many of the inconveniences associated with traditional squeeze lenses. Light and fast, they are capable of super close-focus, with minimal geometric distortion and no breathing during focusing.
            Regarding his approach, Varese says, "Obviously, we didn't want to copy the original, but our film needed to look somewhat similar, so the audience has a seamless transition. The contemporary part is a little darker, because the first part was about kids. It's a scary movie, but at first the kids enjoy a joyous summer vacation. As adults, they each have a darker side. So the look of our movie is contrasty, with deep, long shadows. The sun is low most of the time. It's a more lonely feeling.
"Going from full spherical to full anamorphic seemed like too much for the audience, so the MiniHawks were an exceptional solution," says Varese. "The first film was done anamorphic, but for us, using standard anamorphic glass was counterproductive. My first assistant and my operator were a little skeptical at the beginning, but now they love the look of the MiniHawks – and so does the director."
That lonely feeling in the story was in tune with the decision to shoot with wider focal lengths, according to Varese. He could choose from among nine different focal lengths – a luxury since many anamorphic lens sets offer as few as five options. The cameras were set to record a 2.39:1 image at 3.8K resolution.
"Andy wanted to avoid shooting wide open, and to maintain specific depth of field characteristics. The MiniHawks were wonderful that way. You have to light in a way that you can start up in a wide shot and end up in close-up. It's very challenging. But because I was surrounded by highly trained professionals, it was a pleasure. And Andy's not afraid of the dark, which is a blessing."
            MiniHawks are designed to deliver flare, focus and oval bokeh characteristics that echo classic anamorphic glass – including vertical stretching within rack focusing, and oval specular highlights at wide open. These characteristics come in a compact, spherical lens, which was important to Varese given the shooting conditions.
"The beauty of the MiniHawks is that they really have a wonderful fall-off, and the bokeh's exceptional," says Varese. "The falloff is there without the astigmatism of traditional anamorphic. The flares are great, and the distortion of the highlights in the background is amazing and wonderful. There's a slight astigmatism at the corners, but it's a beautiful astigmatism. I'm not saying you don't ever need to shoot anamorphic anymore, but almost! Vantage has done an exceptional job with these lenses."
It: Chapter Two, from Warner Brothers and New Line, hits theaters September 6. Within hours of its debut, It: Chapter Two's trailer, alone, generated millions of views and sent fans and social media into a frenzy. Stephen King took to Twitter to praise the film. A trailer is available here.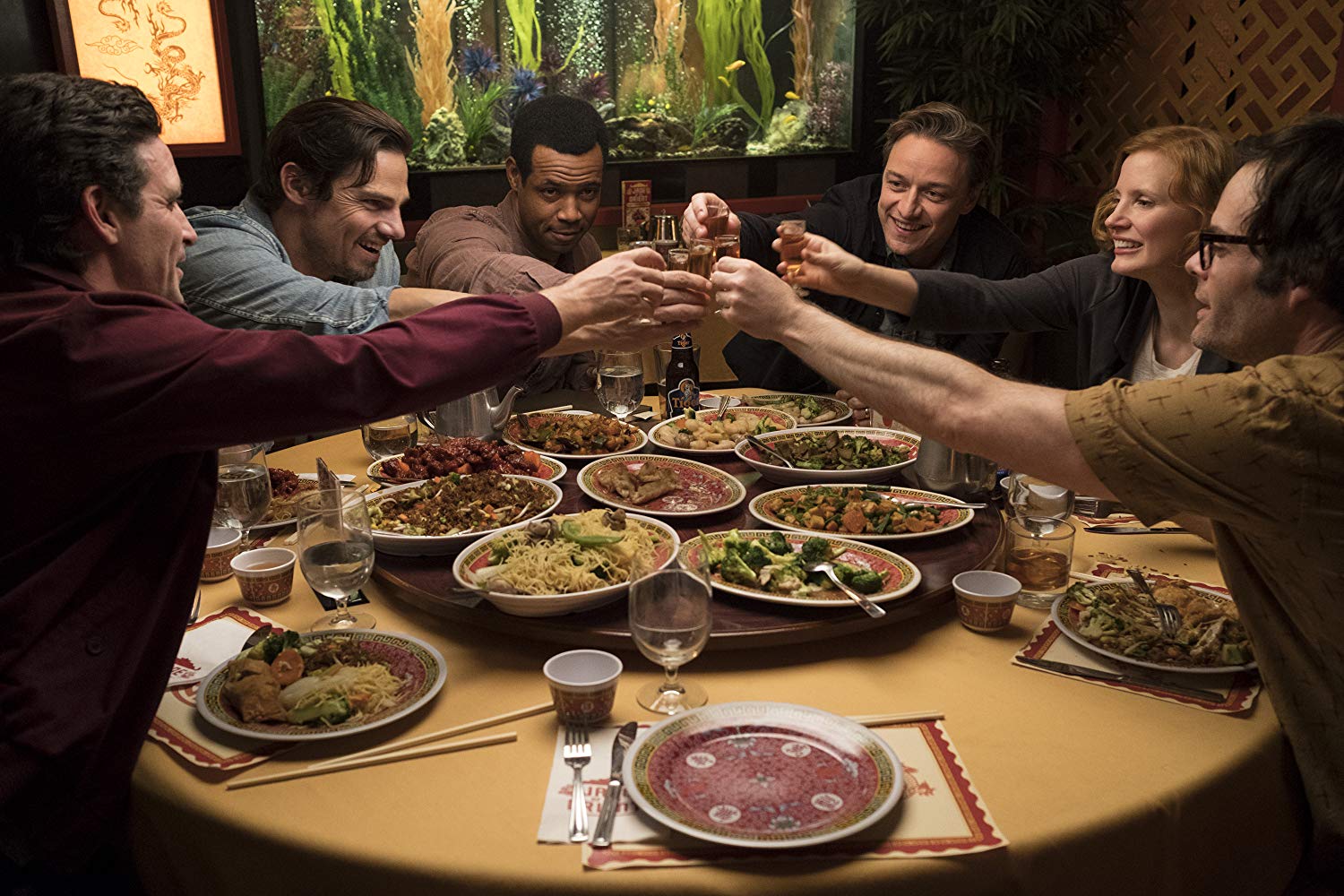 Images: Vantage® / © 2019 Warner Bros. Entertainment Inc.